Key Facts
Paul Borden, Leucadia National Corp., Patrick Bienvenue

Client
Program
55,000 sq.ft.

Retail Space
About Rosemary Beach
Fifteen years after Seaside, a real estate investment company wanted to capitalize on that project's success 7 miles to the east. Threading the needle, the project moved swiftly and expertly through sales and construction to be largely complete by the time the recession arrived. It has become what is arguably one of DPZ's best liked communities.
Despite a clear mandate to replicate Seaside's success, very little of Rosemary Beach emulates its predecessor. Seaside's lucky immunity to regulations was no longer the reality, and lessons-learned needed to be applied. Rosemary's town square was shaped more intimately and thoroughfare-like connecting to a Main Street. A rear-alley system both acknowledged the volume of cars not anticipated at Seaside and screened vehicles from streetview. The plan took a risk in facing many frontages along pedestrian walks. Yet welcoming porches and families with children– grateful for the safe access to the beach– kept garage accesses from becoming front doors.
Eschewing Seaside's Key West pastel clapboard look, Rosemary favored more masonry and adopted a darker wood-stain palette. As in Seaside, however, native landscaping was encouraged to grow into a dense canopy.
Development Approach
Eyes on the water: only two formal beach access points = more residential dune line frontage.
Nature revered: dunes preserved + native plantings + permeable paving = light imprint
Nature informs: native rosemary-scented wild flower on site inspired the town name.
Civic as amenity: iconic community buildings + intensely landscaped public realm.
Successional financing: garages with rental granny flats financed early homes.
Defining Design Details
County Road as parkway: linear green + parallel roadway on north side = solution to 30A curb-cut restrictions
Unique aesthetic: Caribbean + St. Augustine + earth-tone palette
Nature informs: a natural trough in terrain & dune line = town square + Main Street + beach green
Pedestrian necklace: wood boardwalks + neighborhood pools + bungalow courts = fun path loops to beach
Project Categories
Applied Initiatives
Plan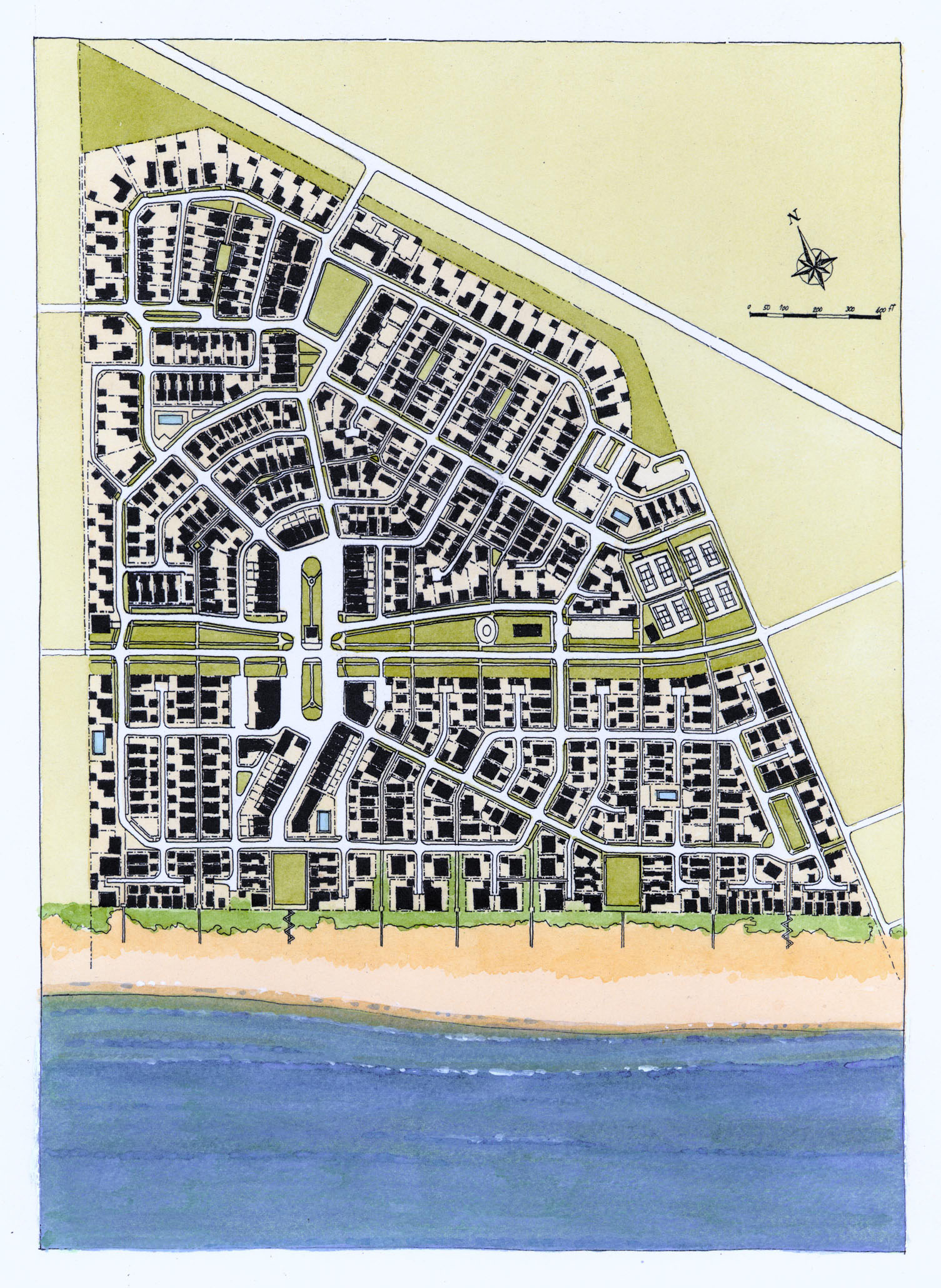 Related Projects