Key Facts
Natelli Communities

Client
Program
272,000 sq.ft.

Retail Space
About Lakelands
Built adjacent to Kentlands on the former National Geographic Society headquarters property, Lakelands in many ways completes its sister project. Developed by a mainstream homebuilder and targeted towards a less-affluent buyer, this neighborhood expanded the range of offerings and provided the rooftops to justify their shared, and now regional, town center.
The DPZ plan involved a large public charrette where much attention was given to the town center Market Square complete with retail, office, and entertainment uses– including restaurants, an 8-screen theater, and a health club.
While Lakelands is a natural extension of Kentlands in both proximity and principle, it is denser than its predecessor since its non-developable features are concentrated rather than dispersed. Apartments and other multi-family buildings near town center give way to townhouses, cottages, and larger single-family houses with front-loaded garages towards the edges. A clubhouse for residents is located in the center of Lakelands, and a variety of squares, greens, and parks are distributed throughout. A middle school and a regional park occupy the southern boundary.
Development Approach
Affordability: majority of residences constructed by national builders.
Glimpse of community: first phase around Four Corners Park = "builder square" of model homes + corner store (sales office).
Regulations: urban and architectural codes, with DPZ as town architect, have guided the town's orderly development.
Nature preserved: green belt of lakes and wetlands connects to Kentlands greenways.
Defining Design Details
Urban transect: density decreases away from Market Square.
Density done well: multifamily and townhomes seamlessly woven into Kentlands single-family edge.
Walkability: greens and playgrounds within a 3-minute stroll of every house
Project Categories
Applied Initiatives
Plan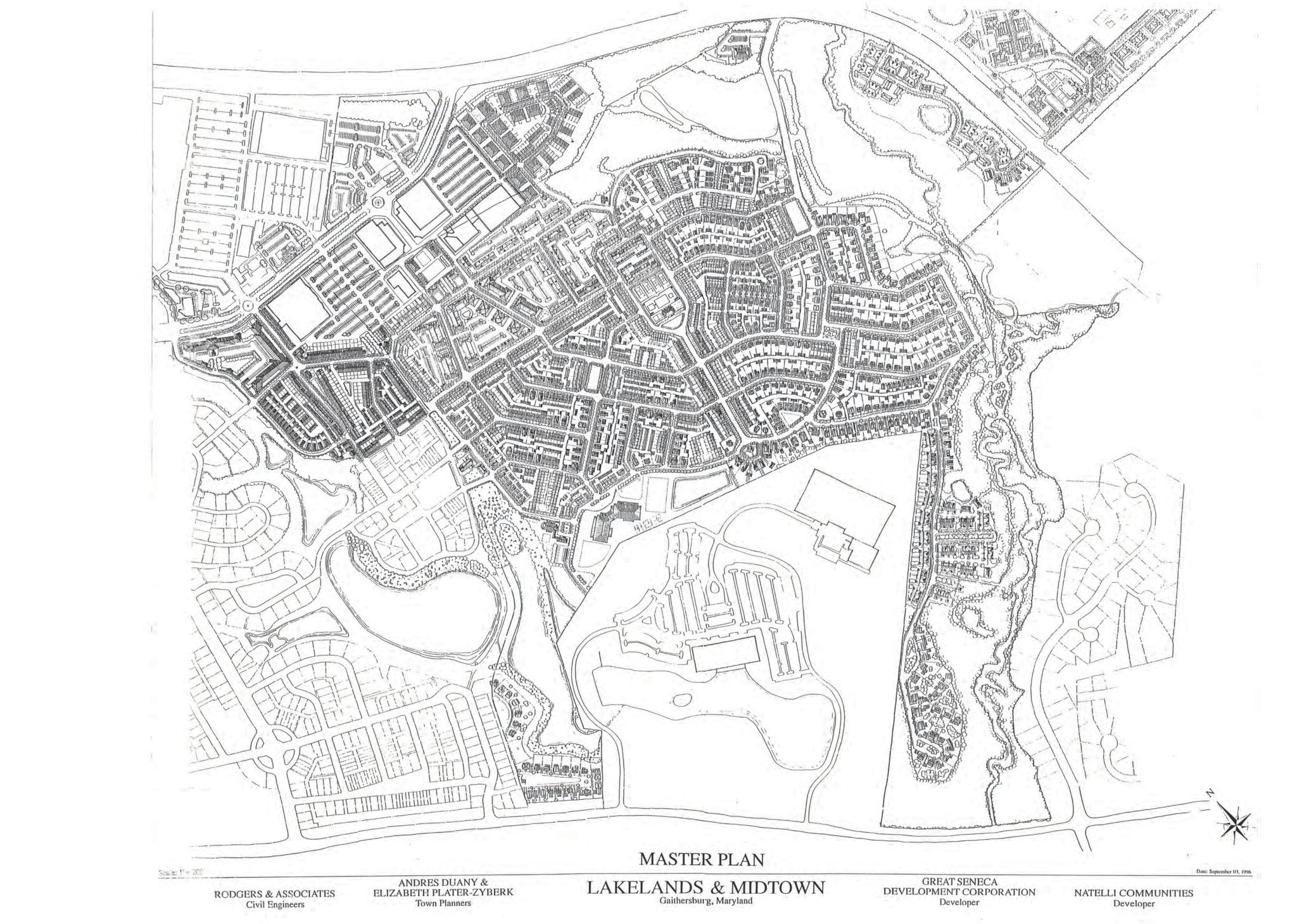 Related Projects