Program
870,000 sq.ft.

Retail Space
About Kentlands
One of New Urbanism's pioneer developments, Kentlands' defining features are now considered commonplace in Smart Growth best practices. Rooted in the mixed-use and walkable qualities of a classic American town, the project's inception still required the heroism and vision of a maverick developer, a supportive mayor, and a persistent planning team to avoid the compromises of conventional suburbia.
Designed in 1987, Kentlands has already nurtured one full generation of residents and today functions as a real 24/7 community that has gradually become a transit-ready, regional hub. It boasts a perhaps too-active local government and more than a million square feet of retail, 30 restaurants and a cinema. The broad residential mix of housing options ranges from a multifamily district to large single-family houses with granny flats above alley-loaded garages. The variety ensures residents a dignified option of starting and transitioning through life gracefully and in place.
Development Approach
Make small & local possible: Main Street lined with live-work units incubating small businesses and eateries.
Regulations: urban and architectural codes, with DPZ as town architect, have guided the town's orderly development.
Nature preserved: a green belt of lakes and wetlands at the edge offers a natural storm water management system.
History preserved: the historic Kent Farm's restored manor house and barn buildings were converted into a community and arts center.
Civic as amenity: a county elementary school embedded in the neighborhood.
Defining Design Details
Successional urbanism: the original strip commercial core, purposefully designed to densify into a block and street pattern.
Architecture over demographics: mix of housing market segments and price-points detailed to coexist harmoniously on the same block.
Density done well: multifamily and townhomes designed to enhance, not lower, property values.
Walkability: playgrounds within a 3-minute stroll of every house.
Project Categories
Applied Initiatives
Plan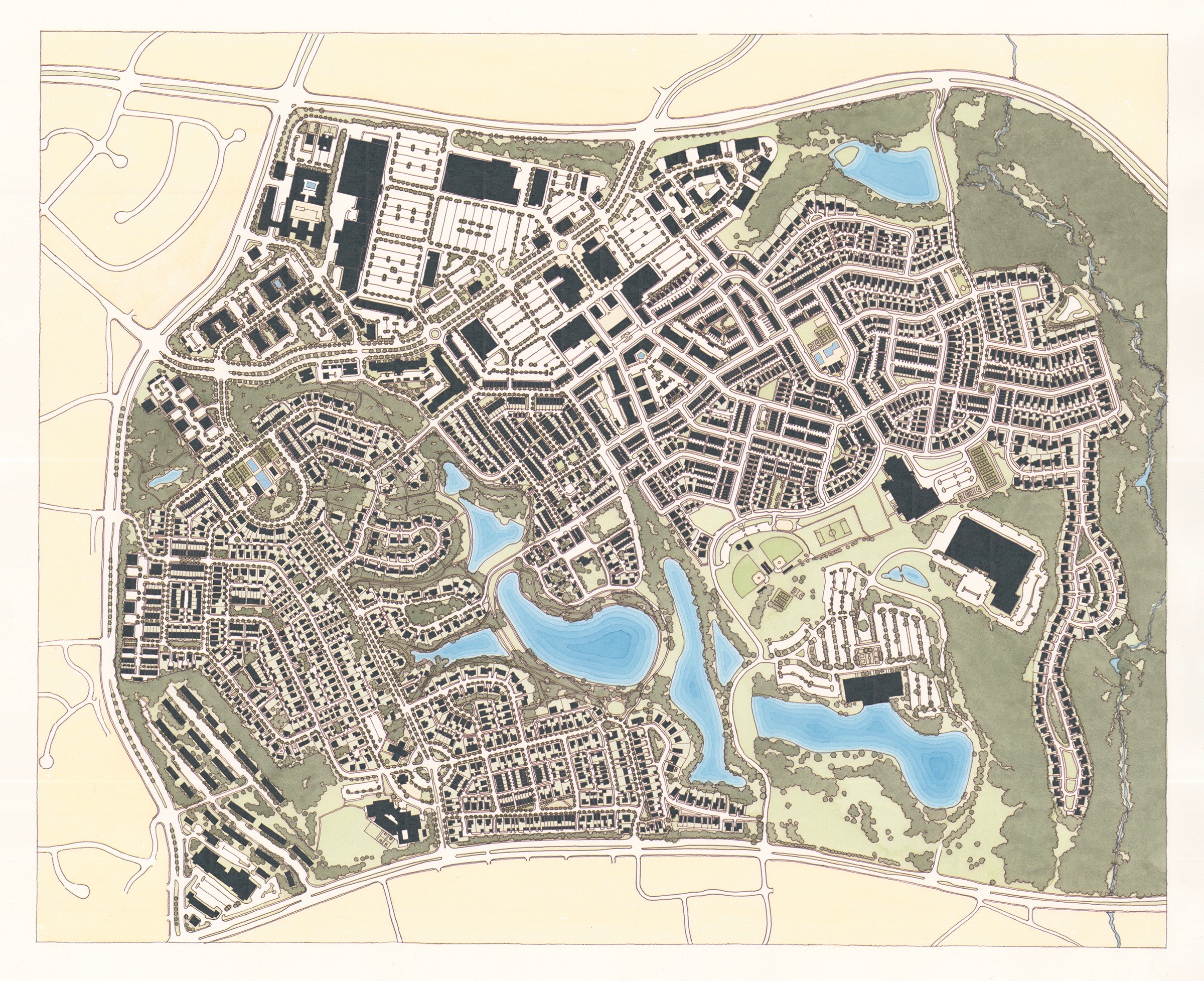 Related Projects