Key Facts
Riviera Development, LLC

Client
About Campo Sano Village
This townhouse court building type has become a staple in DPZ charrettes where providing vehicular access along a greenway or water frontage is impractical or costly. Lining a private Coral Gables golf course on one side, this 2.5-acre collection of rowhouse compounds caused a stir when first built due to its picturesque architecture with sculptural Dutch-Caribbean parapets. Yet the unique look was contextual, given the City's historic themed villages from the 1920s. Moreover, the lively façades provided a useful distraction from several adjacent factors: a noisy collector street, neighboring student rental units, the service entrance of a hospital complex across the street, and a large university campus parking lot down the block. The project's success can be measured by the million-dollar resales of its 2400 – 3600 sf homes, and for introducing the missing-middle townhouse type that surprisingly had eluded this City's sizable empty nester market. Multiple townhouse groupings now dot the downtown streetscape.
Development Approach
Historic connection: marketing alluded to Coral Gables' internationally themed "villages"/ pocket neighborhoods.
Nature revered: existing stand of live oak trees preserved and enhanced with native palmettos, slash pines, and gumbo limbo trees.
Smart use of local code: then-new 'planned area development' zoning used to maximum effect.
Defining Design Details
Shared space: brick-paved courtyards provided elegant and harmonious entries for both vehicles and pedestrians.
Multi-tasking frontage: outer layer of garages, apartments and walled gardens offers friendly face and eyes on street, but also screens parking/ service elements and shields residences from busy road.
Granny flats: though limited by the City, end-units in each compound allowed to have apartments above garage if connected to main house.
Seamless infrastructure: greenways between compounds gracefully incorporated multiple utility easements.
Project Categories
Applied Initiatives
Plan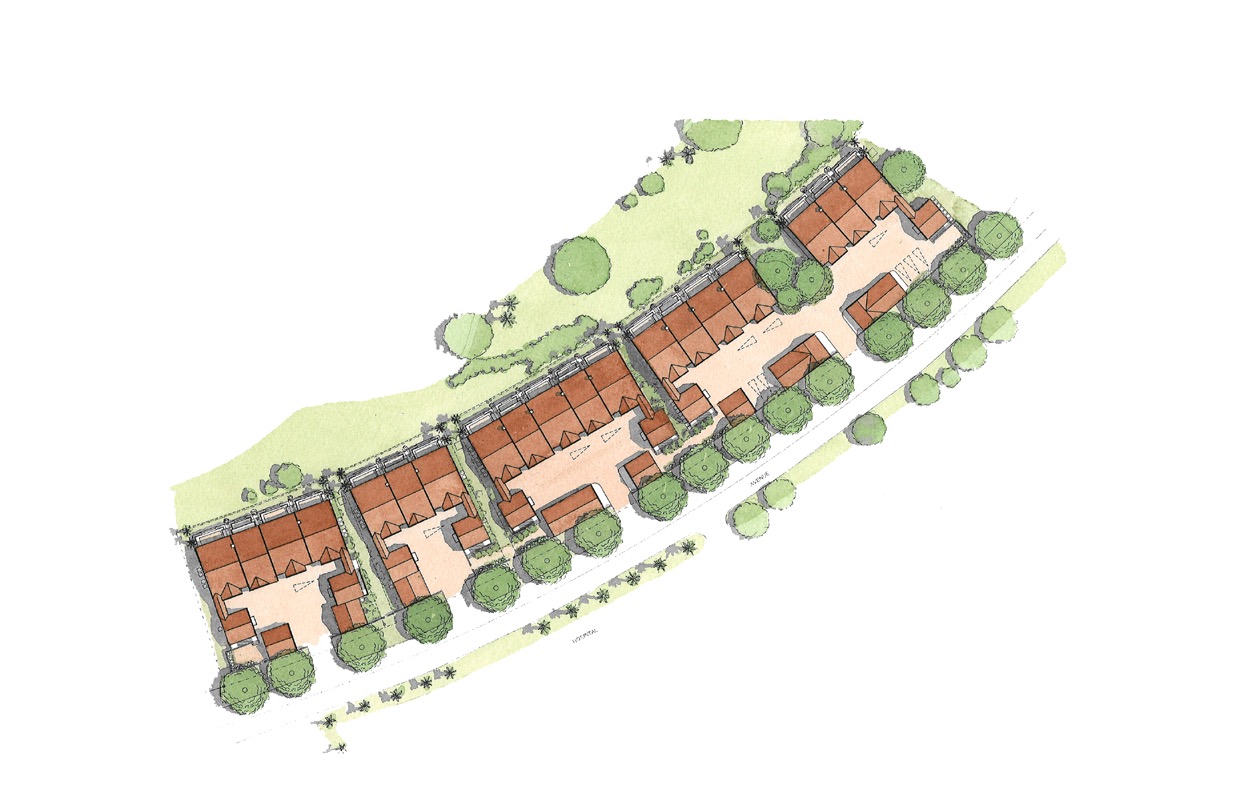 Related Projects