Key Facts
Riviera Development, LLC

Client
About Bermuda Village
Located in Coral Gables, FL, and consisting of two small city blocks, Bermuda Village is a grouping of 22 single-family courtyard residences and 8 condo flats arranged as two duplex compounds. Rendered in a tropical Bermuda style, the village was created in the spirit of the City's original exotically-themed residential "villages" built in the 1920's by developer George Merrick. These picturesque enclaves were often connected by a continuous perimeter wall that defined a clear public street frontage while giving closure and privacy to internal gardens.
Set amidst single-story, single-family residences, but also adjacent to a row of multi-level office buildings, the 30-unit village is composed of double and single story elements that mediate between the two neighboring scales. The homes are typically grouped in clusters of three to four, only attaching at narrow, single-story junctures while generally allowing the double-story volumes to set back away from the street. As with the 1920's villages, a continuous garden wall lines the sidewalks and connects the houses and their courtyards. A private, one-way street bisects the 3.3 acre parcel and creates two blocks whose rear alley courts accommodate garage access, additional guest parking, and the utilities for these units. At the two busiest, most urban corners of the site, two duplex structures are arranged around a walled courtyard entry.
At the heart of the village sits a community pool and pocket park that contains one of the several existing stands of live oaks and pine trees that were preserved. The terrace surrounding the swimming pool is framed between a pergola and a cabana structure whose stepped pyramidal-roof alludes to traditional Bermudan buttery architecture. Additional Bermudan details include the white cement roof tiles, tight roof eaves, sculptural parapets and wall elements, colonial single-hung windows, garden gates, and a paint palette that recalls the early colors seen in Bermuda ranging from light pink to dark red, with the lighter hues intentionally reserved for homes abutting neighboring units so as to keep those courtyards as bright as possible. White is reserved for community structures and special features.
The village is located along a major collector street that links the Village of Merrick Park mall to the University of Miami campus, and is a block from highway US-1. Across the street is the elevated Metro-Rail transit line, whose University Metrorail and Douglas Rd. stations are each within a 15-minute walking distance.
Development Approach
Neighborhood context: transition from commercial corridor to single family houses
Street face: facades and entry courts
Internal focus: mews, community pool and service areas
Defining Design Details
Picturesque massing: small scale of buildings and spaces
Architecture: adding Bermuda to the pantheon of Coral Gables Villages
Project Categories
Applied Initiatives
Plan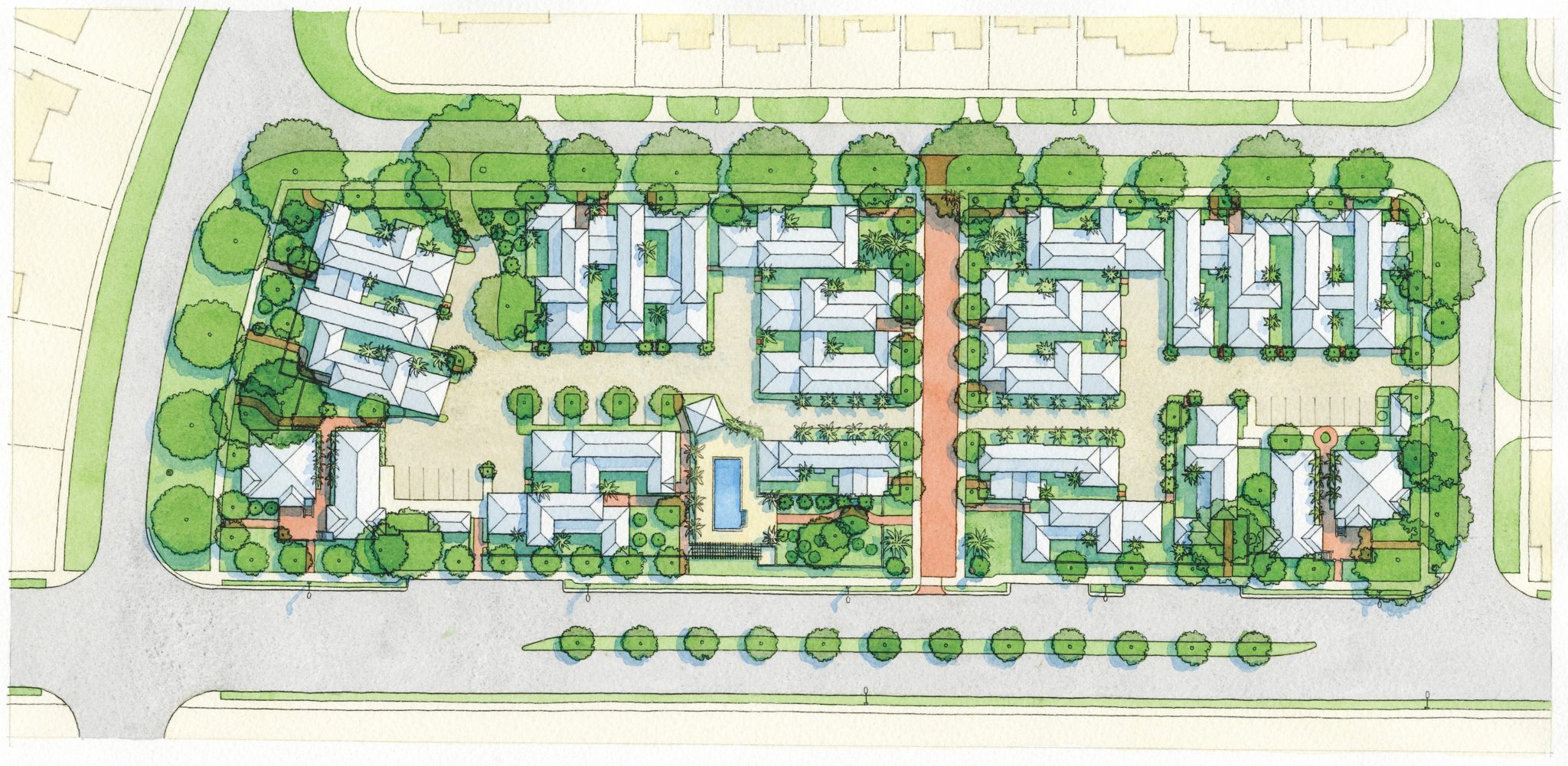 Related Projects