Program
15,000 sq.ft.

Retail Space
About I'On
I'On's four neighborhoods focus on the site's natural features: the wetland corridor of Molasses Creek, three quarried lakes, the Hobcaw Creek marshes at the north edge of the property, and a historic graveyard with a monument to Jacob Bond I'On, a signer of the Declaration of Independence.
Each area has a distinct ambience. The smallest lake, the Rookery, is maintained as a sanctuary for herons, egrets, and other wildlife, and is largely hidden behind a wooded setback. The largest, East Lake, has one long street frontage and porch-front houses on all four banks. West Lake hosts row-houses and pedestrian promenades along its edges. Narrow canals connect the two lakes. To the north, the marshes are bordered by houses with deep setbacks.
A small town center has shops, offices and a meeting hall. Small greens are dispersed throughout the neighborhoods, and civic sites are located at focal points. A church and a school were the first to be established close to the center. A boat landing and an open-air pavilion overlook the marshes to the north.
Development Approach
Suburban infill: walkability within a context of subdivisions and strip development
Variety derived from nature: distinct responses to character of natural features from riverfront marshlands to quarried lakes
Defining Design Details
Urban center to rural edge: row-houses and single houses in the more urban southern areas, with larger houses along the northern marsh edges
Architecture: traditional Low Country architecture including raised entry levels and generous porches
Connectivity: pedestrian paths and bridges taking the place of some streets
Project Categories
Plan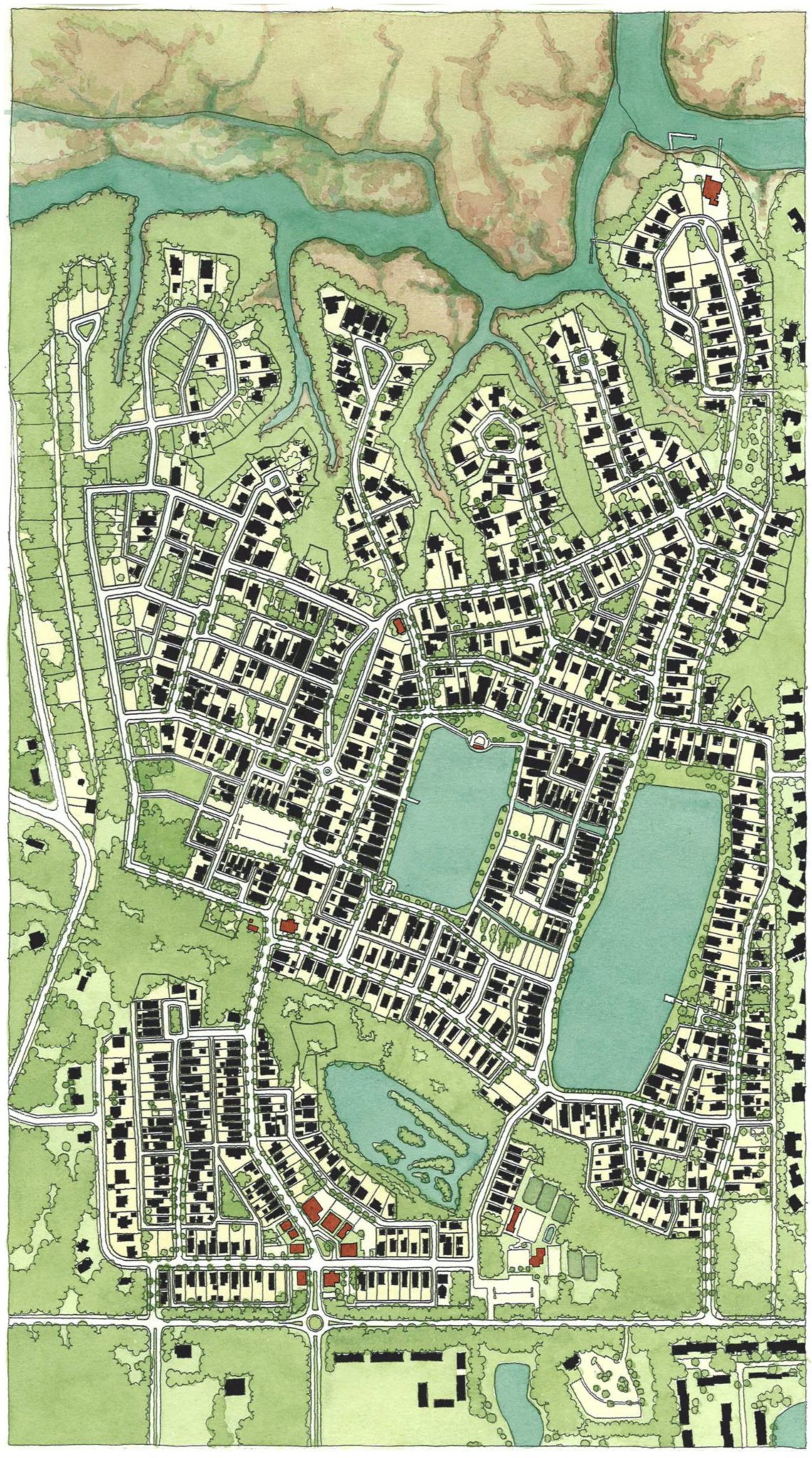 Related Projects