Key Facts
Bon Secours Richmond Health System

Client
About East End Richmond
A collaboration between the City of Richmond and the Bon Secours Virginia Health System, the East End Transformation Charrette focused on the rebirth of Church Hill, a legacy neighborhood with the region's most historic buildings but in need of repair. The still-vibrant African-American community had been the victim of misguided public housing experiments that had disrupted its beloved walkable fabric. While the area had received philanthropic assistance and entrepreneurial interest, DPZ's well-attended charrette helped focus and accelerate additional public-private efforts to incubate businesses, build housing and improve streetscapes.
DPZ proposals ranged from small infill to more ambitious interventions. Designs for a neighborhood center at the 25th Street and Nine Mile Road intersection supported a DOT-funded roundabout green already in the works, and completed in 2015, and helped catalyze subsequent investment. Municipal advocacy for this food desert location has led to the arrival of a new supermarket and other food-related enterprises. A grant-funded townhouse neighborhood broke ground in 2018 to replace a dilapidated housing project and a vacant high school. Leadership at all levels — elected officials, planning staff and corporate sponsors– has been exemplary.
Development Approach
Leveraging public- private: charrette helped channel numerous municipal and private sector collaborations.
Themed rebirth: a growing restaurant scene + new grocery store + new culinary school + a hospital-sponsored workforce incubator & community kitchen.
Defining Design Details
Creative short-term solutions: new plantings along the underutilized cemetery frontage.
Ambitious long-term solutions: visionary redevelopment drawings fueled a grass-roots push for an entire eastern gateway neighborhood.
Project Categories
Applied Initiatives
Plan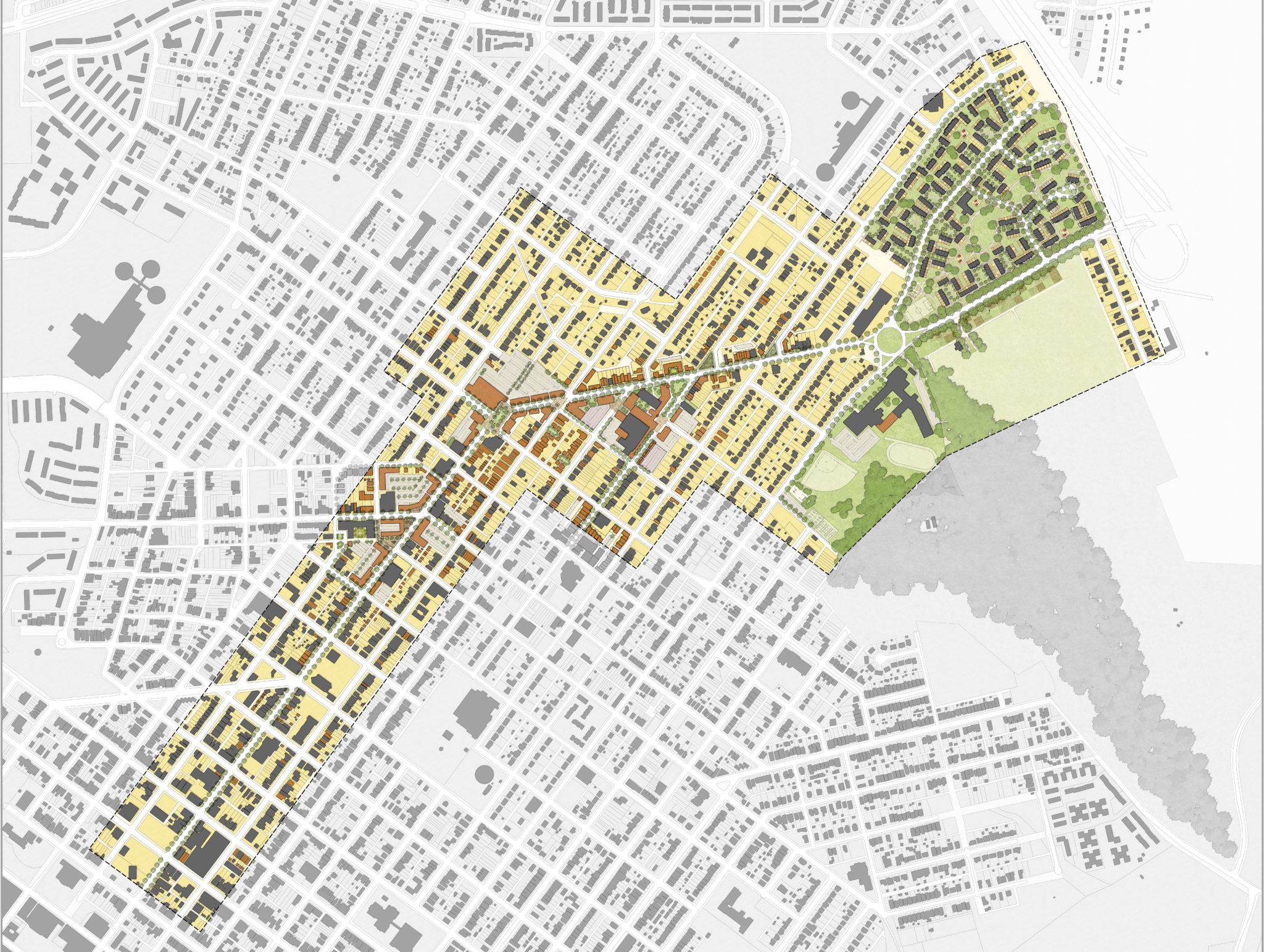 Media
Church Hill acreage from Redskins deal could jump-start hospital-anchored communities in the East End for Bon Secours
From: Richmond Magazine By: Chris Dovi
New urbanism plan centers on facility
From: Midlothian ExchangeBy: Nicholas Langhorne